Whether you are a private shipper, car dealer or a car freight broker, you can use Goforit app shipping features to find transporters for your loads.
Download
the app and follow easy registration steps. Check our database – you might already find your company on the list. If you find the company you can simply register with your e-mail and link your profile to already existing company profile. If your company is not in the database you can create one. We will send an activation e-mail. After you activate your account you are all set to ship your first car.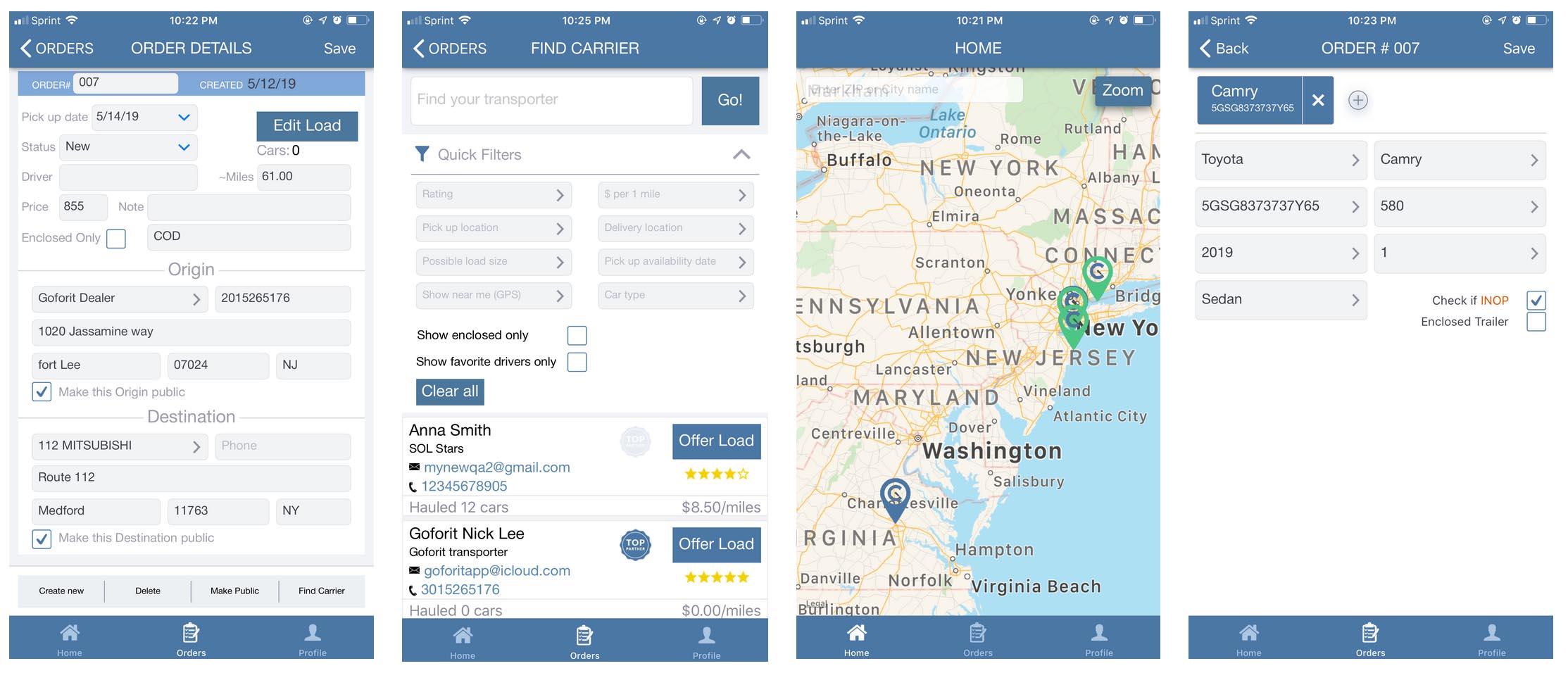 Create order and set important information such as the price of the load, pickup date, origin (where to pick up) and destination (where to deliver) addresses. Make sure to indicate correct vehicle information and add up to 11 vehicles per load (by pressing the blue button "Add Cars" on the top right corner of Order Details form). You might also want to check appropriate boxes if the vehicle is inoperable or if the enclosed trailer is required.
After the order is created, switch to Order page, mark the Order you want to become visible to the public and press "Find Carrier". Now you have two options: a) to make it public (just press the big blue button on the top) which automatically advertises order to the open market so you can wait for transporters to send offers or b) Directly offer order to the transporters from the list (choose particular transporter from the list and press "Offer load" button).
You can check the status of your loads on the Orders page. The status "Looking for Driver" means that your load is publically available and transporters see it. If the price to deliver this load will be attractive – they will send you offers. Also, they may send you different prices to negotiate transportation fees.
You can add or remove transporters from the list of favorites or blacklist them.
When your order offer is accepted driver is automatically assigned to the load. You can call the driver and discuss more details if you want. After the driver picks up the vehicle you will receive appropriate notification. Once the car is delivered the order will be removed to the history. You can rate transporter which will later reflect on transporters general rating.
In case of any questions, please call us and our consultants will help you and provide additional instructions. Our line is: +1(201)526-5176